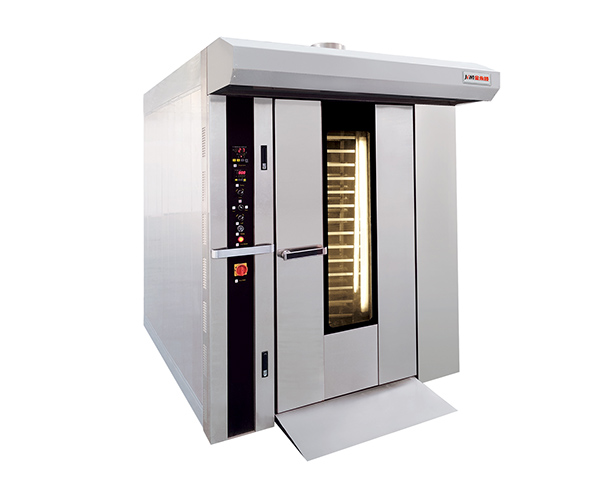 Europ type rotary oven
Suitable for kinds of products, especially such good for moon cake, toast bread, baguette, biscuit, crispy buns etc.
Big baking output, 32trays per time, too much labor saved, one worker can control 4 pcs oven
Japan orginal burner, stable performance during the 20 years test, high eficiency and energy saved.
Application for 400*600/460*720mm trays, we can customize steam system if need.

Product Details
产品参数/Specification
| | | | | | | |
| --- | --- | --- | --- | --- | --- | --- |
| 型号Model | 加热方式Fuel | 电压Voltage | 功率Power | 烘烤(盘)Capacity(Tray) | 烤盘尺寸Tray size(mm) | 外形尺寸Dimension(mm) |
| JMX-32D | Electric 电力型 | 380V/50HZ | 56 KW | 32 Tray / 盘 | 400*600 or 460*720 | 2680*1800*2480 |
| JMX-32C | Diesel柴油型 | 380V/50HZ | 3.5 KW | 32 Tray / 盘 | 400*600 or 460*720 | 2680*1800*2480 |
| JMX-32Q | Gas 燃气型 | 380V/50HZ | 3.5KW | 32 Tray / 盘 | 400*600 or 460*720 | 2680*1800*2480 |
| JMX-64D | Electric 电力型 | 380V/50HZ | 72KW | 64 Tray / 盘 | 400*600 or 460*720 | 3000*2100*2480 |
| JMX-64C | Diesel 柴油型 | 380V/50HZ | 4 KW | 64 Tray / 盘 | 400*600 or 460*720 | 3000*2100*2480 |
| JMX-64Q | Gas 燃气型 | 380V/50HZ | 4 KW | 64 Tray / 盘 | 400*600 or 460*720 | 3000*2100*2480 |